1972 The world's first multi-storey container, La Mi empty bottle, began to produce (Chupi salad dressing, formerly glass bottles)
1976 The Director of the Department of Science and Technology of La Ti Empty Bottles was awarded a prize.
1978 Start to use the technology of empty bottles to produce cups
1984 Golden Treasure Soup Vegetable Juice

The first Lamila airtight container in the United States is the general name of multi-layer resin container with aerobic isolation function developed by Dongyang Tank Group, which is ahead of the world. Empty Bottle Products on the Market-Jinbao Soup Vegetable Juice
Our company's air-tight products are divided into sheet, Cup & amp, shallow plate and bottle because of different production processes. The function (oxygen isolation) of these products is basically the same as that of raw materials.
Oxygen and water vapor isolation performance is remarkable, without the use of preservatives, content can be stored at room temperature for more than one year.
Its transparency makes the content clear at a glance, and it can also be detected by metal detectors. (It can also be colored according to its use)
It is very lightweight and can greatly reduce transportation costs compared with glass containers. At the same time, because of its sufficient strength, it can be used safely.
Oil resistance, acid resistance, alkali resistance and aroma retention are excellent.
After incineration, it is decomposed into carbon dioxide and water without producing toxic gases.

The sheets are multi-layered for thermal forming.If a forming machine is available,LAMICON cups are easy to produce.Any width or caliper can be applied depending on your requirements.2 colors,white and transparent,are available.Sheets up to 7layers with 5 kinds of material can be made.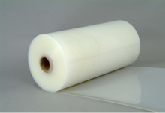 Bottes of next generations replacing glass bottes.The inner and outer layers can be made with PP or PE depending on the contents.Also,up to 6 layers with 4 kinds of materials can be applied.The corresponding closures are also manufactured by us..
Product details